Note:
Clean Water is necessary to insure that these products are not neutralized by the mineral content of the water. Avoid iron heavy well water!  WHOLESALE  ONLY
Non-Selective Herbicide
Round Up PRO Max
This product is the next generation in the evolution of high performance of the most popular non-selective herbicide on the market. This product contains more Glyphosate acid than Round up Pro. Rainfast in 30 minutes. Available in 1.67 gallon jugs.
---
Round Up Quick Pro Dry



A popular combination of Glyphosate and Diquat for that quick control. This product is a dry product that you mix with water. It contains the vegetative control of Glyphosate with Diquat to give you a fast acting product. This comes in a 6.8 lb. jug with an easy measure spout for accurate mixing as well as in packets that make 1 gallon of product.
---
Concentrated liquid provides total, one-year control of unwanted grasses and weeds.
Effective weed controls for one full year

Kills existing weeds and prevents new weeds

Use only in areas where no vegetation is desired such as gravel driveways, patios, around propane tanks and in fence rows
---
Generic Glyphosate
Same 41% active ingredient that is found in Round Up. Generic names will vary based on availability. Available in Ranger Pro 2.5 gallons and Kleen Up Pro 1 gallon.
---
ProDeuce
Extended weed control with the burn down of glyphosate, Plus the residual control of prodiamine herbicides. Packaged in 64 oz. tip-and-measure containers. Each 64 oz. container treats 10,000 to 20,000 sq. ft. Always read and follow label instructions. ProDeuce is a dual action herbicide, intended for landscape and ground managers. ProDeuce will alleviate multiple chemical and mechanical weeding applications throughout the growing season.
Uses: Cracks and crevices in driveways, sidewalks, walkways and patios. Along fences, foundations, curbs, retaining walls and edge of lawns. Around the base or in mulched beds of well established shrubs or trees. On gravel areas.
---
Scythe
All natural. Add to Round up or Finale for an almost instant kill. Works in Cool weather. Comes in 1 gallon and 2.5 gallon jugs. Application rate may vary depending on type of maturity of unwanted vegetation.
---
Finale

 
Similar to Round Up. Some claim quicker kill and browning. Comes in 2.5 gallon jugs.
---
Pre-Emergent Herbicide
Pendulum
Pendulum® ™ herbicide is an oil-based formulation of the industry's leading pre-emergent active ingredient – BASF pendimethalin – Pendulum delivers:  A highly effective and economical pre-emergent weed control option for field- and container-grown nursery stock, including newly transplanted field- and container-grown nursery stock; established field- and container-grown nursery stock; ornamental bulbs; wildflowers; landscape plantings; and bare ground for container placement.Effective control for a wide range of weed species – more than 40 grassy and broadleaf weeds.Virtually no odor and ease of use through equipment with water clean-out of tank.Excellent pre-emergent weed control on ornamental plants in landscapes.
---
Treflan



PRE-emergent herbicide used in landscape beds for the control of annual grasses and some broadleaf weeds. This product is cost effective and safe on nearly all landscape plants. This product should be physically incorporated 2" to 3" into the soil. Treflan may be used in flower beds prior to transplanting. This product comes in 40# bags. Apply at 5.5 to 7.3 lbs. per 1000 sq. ft.
---
Dimensions 0.25 DG Pro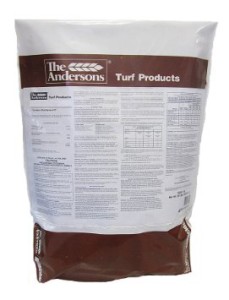 PRE-emergent herbicide used in landscape beds for the control of annual grasses and some broad-leaf weeds. 50# bags.
---
Anderson's Lawn Fertilizer with Dimension

---
Snapshot
Snapshot® herbicide is a combination of Treflan and Gallery Herbicides. This product is a great pre-emergent herbicide but, may be unsafe for some plants. Refer to the label for more information. This product comes in 50# bags. Apply at 2.3 to 4.6 lbs. per 1000 sq. ft.
---
Tupersan
Tupersan® is a granular or wettable powder PRE-emergent that can be used while seeding. Tupersan will prevent up to 80% of crabgrass and other grassy type weeds. Apply at 2 lbs. per 1000 sq. ft. on newly seeded areas and 4 lbs. per 1000 sq. ft. on established turf.
---
Post

-Emergent

Herbicide

– Selective
"Post-Emergence" herbicides will generally kill many weeds and undesirable grasses after germination or if they are already there. In all cases, avoid foliage – trunks and stems of desirable plants (especially the green tissue). As always, read the complete label, follow instructions and use this only as a guideline.
Some retailers, including many of the big box stores, are now offering name brand herbicides to shoppers in large-sized containers. Even though they boldly claim that the products are "concentrates", they are often weaker formulas intended for homeowner use. All products listed on these pages are "professional"  strength formulations!
Trimec Classic
Broadleaf Herbicide
The golf course superintendent's number one choice for dependable broad-spectrum broadleaf weed control, now a low-odor product. This popular workhorse puts unsurpassed power and efficiency into your weed control program. Trimec Classic is now a LOW ODOR product. 3.25 to 4 pints per acre.
---
Trimec 992

-A broad spectrum postemergent broadleaf herbicide containing Trimec® developed for use by turf management professionals and big lawn care companies.  Vessel can be used on cool-season and warm-season turf grasses including, Kentucky bluegrass, perennial ryegrass, fescue, creeping bentgrass, common bermudagrass, hybrid bermudagrass, bahiagrass, zoysiagrass, and St. Augustinegrass.  One gallon does up to 2.5 acres.
**Available in 2.5 gal jug.
---
Speed Zone
Broadleaf Herbicide for Turf
Incorporates an advanced chemistry for broadleaf weed control in turf to give the turf manager the fastest and most versatile broadleaf weed control available. Highly selective in established cool and warm-season turf grasses; CAUTION signal word and good toxicological, environmental and ecological properties. Nothing better on clover! New chemistry to control broadleaf and weeds that vine. Nothing is better on Clover! 1 gal. and 2.5 gal. Sizes. (3-5 pints per acre) By far, the fastest COOL WEATHER weeds control!
---
Surge
Broadleaf Herbicide
A water-based broadleaf herbicide for turf that provides an amine option for FAST weed control in warmer weather. New from Trimec! Warm weather weed control – FAST! 3-4 pints per acre.
---
Tzone



Broadleaf Herbicide for Tough Weeds
Provides exceptional broadleaf weed control in cool-season turfgrasses. Contains four active ingredients including triclopyr.
---
Gordon's Q-4 Plus
Turf Herbicide for Grassy & Broadleaf Weeds
– Apatented product containing Quinclorac + Sulfentrazone + 2, 4-D + Dicamba. This combination provides fast visual response and an enhanced spectrum of weed control, including yellow nutsedge suppression, crabgrass and many other troublesome grassy and broadleaf weed in established turfgrass. Q4 is approved for use in cool-season grasses. This all-in-one product has become known as the "army knife" of turf herbicides. Q4 is dual action herbicide for the suppression of yellow nutsedge, control of certain grassy weeds such as crabgrass and foxtail, and control of most troublesome broadleaf weeds in established cool-season turf areas. Q4 is a patented product containing four (4) active ingredients. A water-based formulation. Rain-fast in 6 hours. Has a 4 week reseeding interval. Works best after irrigation (see label for details). Q4 comes in 1 gal. and 2.5 gal. sizes.
---
Ornamec 170



Grass Herbicide
Designed to maintain flower beds and helps eliminate hand weeding. Can be used in & around groundcovers, shrubs, trees, landscape beds & ornamental beds killing unwanted annual & perennial grasses.  Ornamec 170 does not control broadleaf weeds or sedges.   Labeled for over-the-top application, Ornamec's active ingredient begins to work within five days. Death of the grass is generally observed within two to three weeks, depending on the grass species and environmental conditions.
---
Fortify Granular Weed Control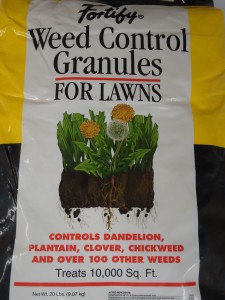 Fortify is a granular post emergent selective weed control. It is best to apply in the mornings and use the dew  or right before a rain.
---
 

Quinclorac 75 DF



The best product for crabgrass! Eliminates stubborn clover and some broadleaf weeds in a single application. Gentle on established turf and can also be used with most seed at the time of seeding. 1 pound bottle does 1 acre. Refer to label for spraying instructions.  Also available in a liquid.
---
 

Quinclorac 1.5L Select




The latest technology in providing unsurpassed crabgrass control. A proprietary, water-based formulation that delivers quicker uptake by the plant.  Quinchlorac 1.5L is rain fast quicker (in less than an hour). 
Quinclorac 1.5L Select Label
Quinclorac 1.5L Select MSDS
---
Sedge Hammer
Sedge Hammer is a selective herbicide for the control of nutsedge and other weeds in turfgrass and landscaped areas.
---
80/20 Select
80/20 SELECT is a high-quality, general    purpose nonionic surfactant.         
80/20 SELECT may be used with any insecticides, fungicides, herbicides, acaricides, defoliants, desiccants and wettable powders.               
80/20 SELECT will increase pesticidal activity by increasing the
wetting and spreading ability of the spray solutions.
FOR LABELS AND MSDS SHEETS PLEASE REFER TO: www.cdms.net